Between the countryside of Viterbo and Vitorchiano, today we met the starred chef Lorenzo Iozzia, born and raised in Lentini, Sicily. From Magna Graecia, Iozzia arrived in Tuscia giving life to his "Casa Iozzia", a restaurant with Sicilian scents, where tradition lives on in every dish.
Every entry, at Casa Iozzia, is cared for in the smallest details and is created to tell a story. The encounter between the flavors of the traditions of the ancient lands of Sicily and Tuscia is enhanced by a unique combination, a "marriage" fully celebrated by Olio Tamìa who has found a real home here.
Chef, tell us about your cuisine. What is the heart of Casa Iozzia?
Ours is a cuisine that comes from a land surrounded by the sea, so it is on fish dishes that we have decided to focus more. Quality and first choice products, which in my journey from Sicily to Tuscia have encountered new aromas and flavors, such as those of the Cimini Mountains, a magical place, full of excellence and many stories to tell.
Among these new flavors, we certainly also find Olio Tamìa, right? When and how did your first meeting take place?
The question takes me back several years. The occasion was that of a catering that I organized for one of the company partners. That was a first approach, from which was born not only an acquaintance but a friendship which then led me to also meet Pietro Re. I was immediately very interested in their production and shortly thereafter I had the opportunity to taste their first oils of the highest quality. They were something that certainly could not be missing in my kitchen.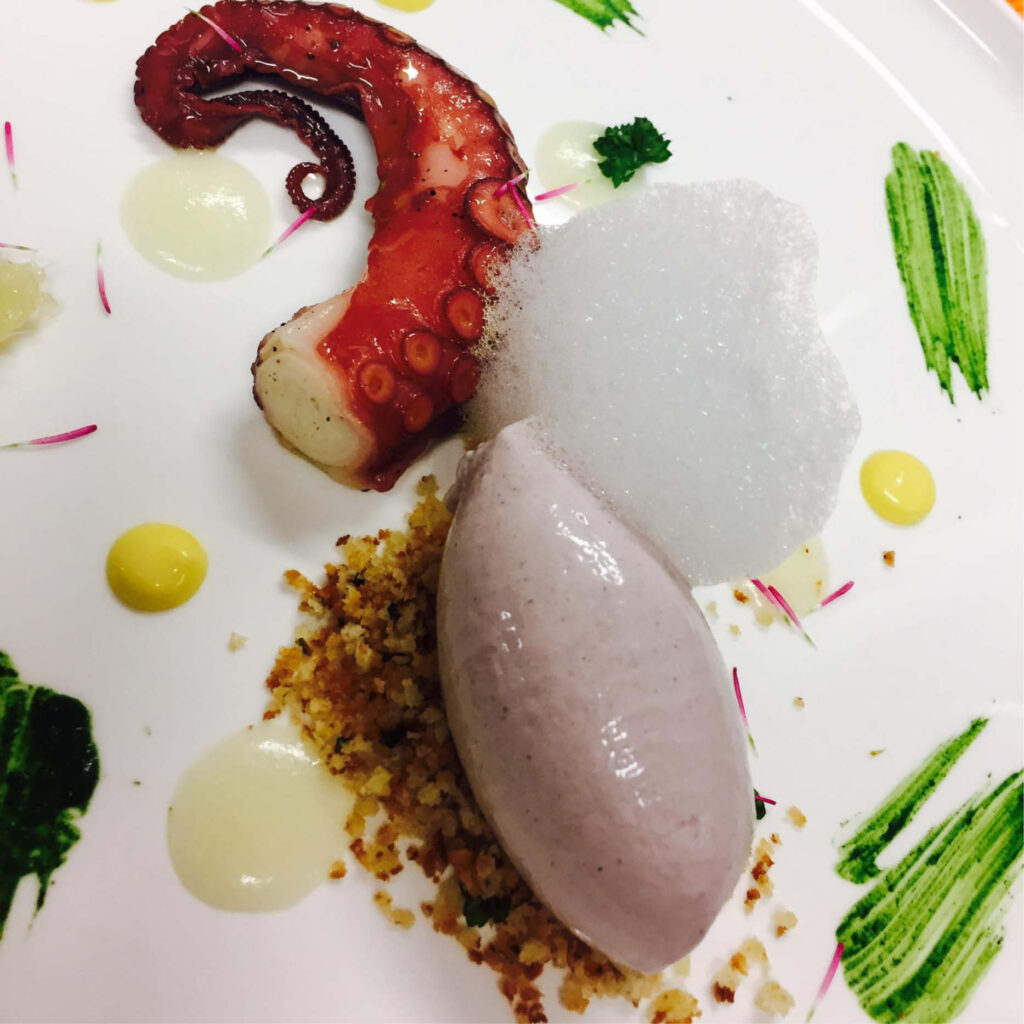 What was your favorite among the olive oils you tasted?
First of all, I must point out that each of Olio Tamìa's products has a high quality. Each has its own unique character, perfect for matching certain dishes. With them it is possible to create unique flavors on the palate, able to satisfy any request and expectation. It is difficult to choose a single quality of olive oil as a favorite, even though, I must admit, I have a weakness for Tamìa Maurino Biologico… I always keep at least one bottle of it in my home too!
Which Tamìa olive oil is Casa Iozzia's "favorite"?
As already mentioned, our cuisine is based on fish, with delicate flavors. We have therefore chosen to focus on the Itrana cultivar, the Tamia Green , which has been able to combine beautifully with our dishes, enhancing their qualities and highlighting every aspect. However, our customers' experience with olive oil begins with a first tasting that is offered to all customers shortly after sitting at their table.
Chef, before saying goodbye, what do you want to tell us about the Tamìa experience in general?
I think that the work of Pietro Re, and that of his partners, was to start again from the terroir, from the plant … almost from the single olive! It is in this way that Olio Tamìa has managed to surprise everyone, finding the "right recipe", following every moment of the production process of its oils. From the "soffritto" to the palate… the experience is perfect.