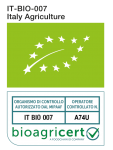 Tamìa Caninese Organic Olive Oil
Monocultivar of 100% Italian organic olives, Caninese variety
Extracted from olives of the native cultivar of the Viterbo area, Tamìa Caninese is the 100% Canino organic extra virgin olive oil that preserves the tradition and scents of Tuscia. Rich in polyphenols, precious components for our health (powerful antioxidants prolong life), is fruity medium to intense, with a typical taste of fresh olive and freshly mown grass, with sensations of artichoke and green almond. It has harmonious and well balanced notes of spicy and bitter.
Bruschette, omelettes, fried fish, legumes appetizers, salmon salads, baked fish, tomatoes au gratin, roast radicchio, asparagus soups, first courses with vegetables, baked blue fish, red meat and grilled game, fresh pasta filata cheese, one teaspoon in baby food (recommended).
Average nutritional values per 100 ml
Organic Italian Extra Virgin Olive Oil.
Olive oil of superior category obtained directly from olives and only by mechanical processes.
To the nose
Fruity green medium intensity of sweet herbs (songino, valerianella), flowers
fresh and sweet almond, very enveloping and full in its delicate nuances.
To the taste
Medium bitter, aromatic, with sensations of herbs, lettuce, almond and flowers, extremely consistent with the fruity; pleasant spicy sensation on the finish, medium intensity and good persistence.