Let's go back to talking about our Olio Tamìa with an interview with a dear friend Michele Palombi, restaurateur with a very long experience behind him and owner of "Dal Sor Francesco" restaurant in Cura in Vetralla (VT).
The restaurant, born in 1959 at the behest of his father, allowed him to enter the kitchen from an early age, a place that immediately enchanted him, making him fall in love with his work so much so that he became a true artist. 
After 35 years in business, Michele Palombi never ceases to amaze customers with his great culinary talents, which have kept the name of his family's restaurant very high. Today, we talk to him about his personal experience with Olio Tamìa, an experience that – as you will discover – has its roots in the past.
Michele, how did you become aware of Olio Tamìa?
Our friendship with Pietro Re began when we were children and I believe I was one of the first to taste his extraordinary Tamìa oil. Pietro came to me on purpose, as I was – even at that time – an oil sommelier. I immediately realized that I had tasted an oil that would later be talked about all over the world, which is why I chose to introduce it into my restaurant right away, placing it on every single table in the dining room.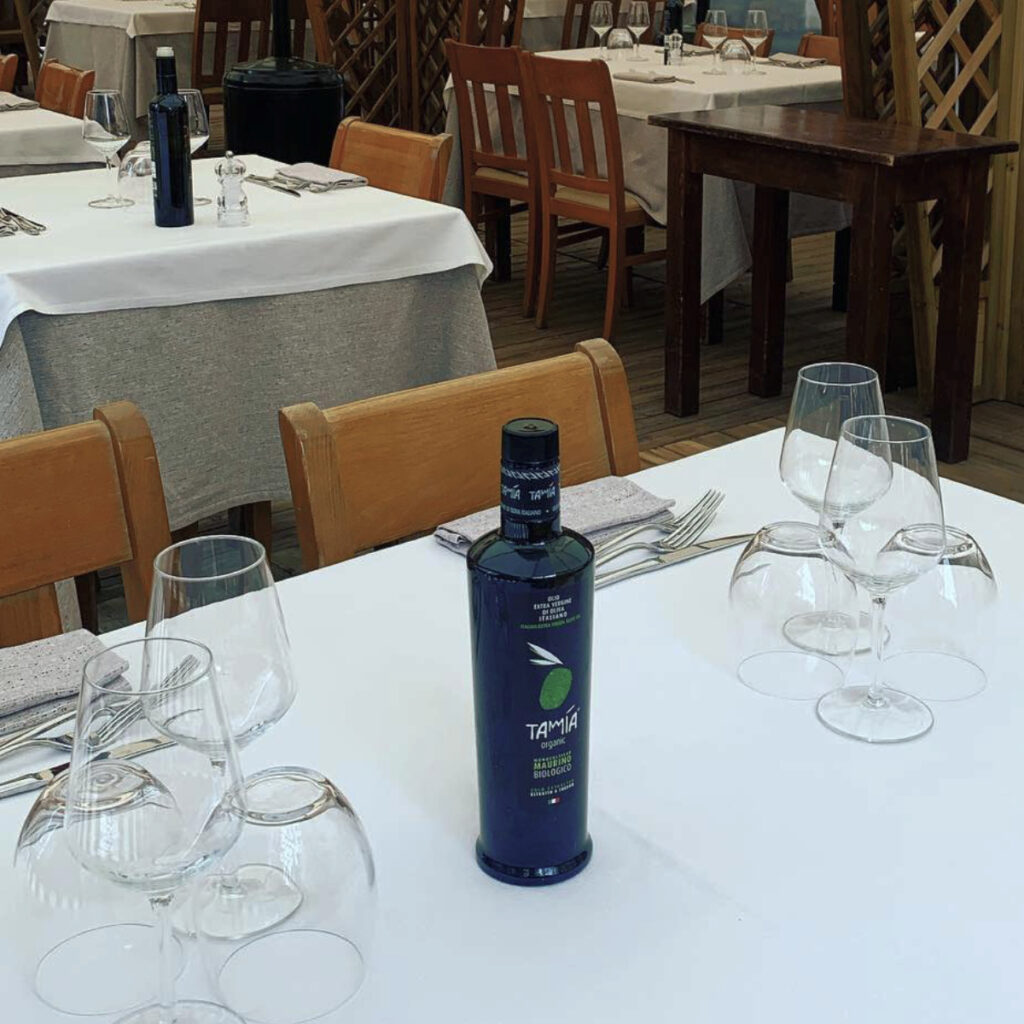 At the table, but also in the kitchen?
Obviously, but not right away. I decided in this case to wait for the arrival of a product made specifically for the kitchen. A product for "professionals", let's say and not just for seasoning, which arrived a few years ago and now I can say: the wait was totally worth it!
Which are the dishes where Olio Tamìa cannot be missed?
I must say that we cook a bit of everything, so it is easy to cross the precious flavors of Olio Tamìa in many of the dishes of my restaurant. From sauces to meats, passing through the condiments of the most disparate foods. Obviously we pay attention to the most suitable combinations and for each dish we carefully select a particular type of Tamìa Oil. Similarly, we offer suggestions to our customers, recommending what we think is the best oil to enhance a certain dish, so that the experience at the table can always be more than satisfactory.
And do customers appreciate it?
Certainly, also because offering a very high quality oil on every table is no small thing. The product, of course, deserves it and it happens very often that some customers ask us for more information about Olio Tamìa, deciding to buy some bottles to use at home as well. For sure, it is a product that makes you make a good impression with your friends and relatives in occasion of a dinner or a lunch.
In a way, by being Vetrallesi too, you promote the territory.
Exactly. Ours has been a synergy for many years and we are very pleased to be able to work with products from "back home", especially if they are of excellent quality as Olio Tamìa. 
And you, do you use Olio Tamìa also at home?
Needless to say, my house is never short of bottles of Iron, Gold and many other Tamìa oils. Yet, if I had to choose, my favorite I would definitely say Olio Tamìa Green. I am crazy for its aftertaste of tomato and even in the simplest combinations, such as a bruschetta salt and oil, the experience of the palate becomes something unique and absolutely to try.